Meet the Veterinary Technician
Susan

Teachnician Manager

Years in Practice: 14
Robert Keith

Our longest continuous employee (since 1962), Bob works in our in-house laboratory, and handles the inventory and medical purchases. He enjoys the challenge of new products and how they will fit into our Hospital. His outside interests include cats, photography, and model planes and cars.
Marilyn Keith

Marilyn had worked at various animal hospitals before coming to our Hospital in 1976. Her strengths are undeniable as a technician in surgery and the lab, especially microscope work where she has taken many continuing education seminars, and enjoys doing cytology. Her outside interests include breeding and showing Sphinx cats - a "hairless" breed.

Anne D., CVT
Anne had been a technician with us full-time for over 17 years, now she still works one day a week in our in-house laboratory.
Cathy B., CVT
A 1999 graduate, Essex Agricultural and Technical Institute with a degree in Veterinary Technology, Cathy works as a senior staff technician in our surgery, treatment, and lab departments. Starting out as a receptionist in 1996, Cathy now rotates as a lead supervising technician in all of our hospital departments. She attends annual continuing education in the veterinary field and enjoys taking time off to travel and enjoy the outdoors.
Steph

Steph started working with us in 2003 as a Receptionist, and now also works as a Room Technician. She has studied both English and Animal Science in college, but will be graduating with her Bachelor's in Psychology from Salem State. She aspires to working with dogs with behavioral problems full time. She spends her free time running with her Husky mix, Bowie; reading; fishing; hiking with both dogs; and snuggling with her three cats, Maserati, Kidgie (hairless), and Lester. She also enjoys caring for her three rats; her Bearded Dragon, Dexter; her Russian Tortoise, Tortimer; and volunteering for Great Dog Rescue New England.
Kerri
Kerri is a 2007 graduate of Essex Agricultural High School where she majored in Veterinary Technology. She is currently taking the animal science course at Northshore Community College. She has been with us since 2006. Kerri loves kittens and big dogs, especially Pitbulls and Mastiffs.
Kristen
Kristen came to us in 2006 with a growing knowledge of household pets and exotics. She has quickly progressed and now works in multiple departments including room technician, surgical assistant, treatment an the lab. She is a lover of all animals big and small. Her love of animals can be seen in the variety of animals she keeps as pets, 2 dogs, 5 cat, 2 rats, 1 sulcata tortoise, 8 ball pythons, and axolotls. In the summer you can find her up in Berwick Maine running practices for Seacoast Dockdogs. Keep and eye out for her and Patches at a local Dockdogs event near you!
Victor

A 2005 graduate of Greater Lawrence Technical High School, Victor came to Andover Animal Hospital on a co-op job, where he discovered his love for animals and has been with us ever since. Victor currently works in multiple departments including surgery, room tech, and treatment as a skilled veterinary assistant. Not only does he excel at blood drawing, x-rays, and administering medications to sick patients, but he is also bi-lingual and able to translate calls and instructions to the Spanish speaking community. In his free time, Victor enjoys camping and hiking with his 3 dogs. He also owns a hairless Sphynx cat.
Yisbell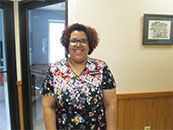 Kelli
AAHA Acredited
Promotions
Save money on Pet Exams, Vaccinations, Dental Care and More!
Learn More